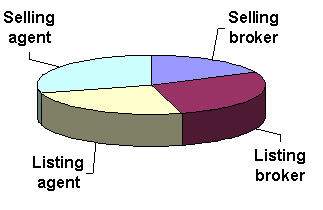 Let me take the mystery out of commissions for you! I have found that most clients, buyers and sellers alike, do not understand who gets the money and who pays the fees.
Generally, sellers pay the largest amount (if not all). When an agent receives a listing from a client, it is agreed in writing how much commission will be paid to the real estate brokerage for which that agent works. It is also agreed what the "split" will be. This refers to how much commission will be paid to the buyer's real estate brokerage. This information is entered into the multiple listing system (MLS) and cannot be changed unless the seller and agent come to an agreement before a property goes under contract.
Note that commissions are never paid directly to agents. All monies go to the brokerage, and then, depending on the split arrangement the agent has with the brokerage, the agent gets a portion of the fee that the brokerage received. Most people think the agent gets everything, but that is not true! Additionally, since agents are actually independent contractors with their brokers (self-employed), they, and not their brokers, pay their own costs of doing business (licensing, education, auto, gas, most all marketing, etc.).
What does this mean for buyers?
First, understand that real estate agents can show properties from any other agency, not just their own. Depending on your agreement with your agent, your agent usually gets paid according to the split in the MLS referred to earlier. Long and Foster also charges a nominal administrative charge, paid at settlement by you. In the case that your perfect home is a "for sale by owner" property, your agent will call the seller and find out if they are "cooperating." This would mean the sellers have decided they do not want a listing agent and just want to attract buyers and their agents by paying commission to only one brokerage. If they have decided to do so, your agent can show you the property and write a contract. If they have decided not to offer a commission, depending on your agreement with your agent, you can either pay your buyer's agent yourself to represent you, decide to pursue the property without your agent (assuming nothing in your agreement with your agent bars this) or pass the property by.